THURSDAY 5 MAY | Vintage Inhouse Pub & A-side proudly present
Special guest from UK!
For the 1st time in Greece – The international DJ / producer:
ADAM PRESCOTT
out of Reggae Roast Sounsystem,
UK's No1 Reggae / Dancehall Sound
alongside \| ANNA MYSTIC
Early vibes by Selecta Angelo
out of 4DUB Vibes Soundsystem
Την Πέμπτη 5 Μαΐου, έχουμε την χαρά και την τιμή να φιλοξενούμε για πρώτη φορά στην Ελλάδα και τη Λάρισα – στο  Vintage Inhouse Pub – έναν από τους σημαντικότερους Dj / παραγωγούς της παγκόσμιας Reggae σκηνής, τον Βρετανό Adam Prescott μέλος του Reggae Roast Soundsystem, του Νο1 Reggae / Dancehall Sound του Νησιού και συναντά την Βασίλισσα της Ελληνικής Reggae, Anna Mystic, που επιστρέφει στην Λάρισα μετά από 4 χρόνια!

Μαζί τους ο Selecta Angelo από το crew του 4 Dub Vibes Soundsystem, του εξαιρετικού hand craft edsound system της Λάρισας.
Adam Prescott
(Reggae Roast Soundsystem / Ariwa / Lion Charge / ZamZam / Liondub / Moonshine Recordings)
As an integral part of the Reggae Roast Soundsystem team Adam has established himself as one of the finest selectors in the world. Initially with some early support and guidance from Mark Iration (from the Leeds based IrationSteppas), Adam was quickly recognised as one of the key players in the re-emergence of British Reggae, producing first class original songs featuring the likes of Cornel Campbell, Macka B, Sugar Minott, Ranking Joe, Rod Taylor, Johnny Osbourne & Earl 16 to name but a few. In addition to his releases on the ZamZam imprint, DJ Shepdog's 'Nice Up!' Records, New York's 'Liondub' & Moonshine Records he is very much in-demand for his memorable remixes for artists such as Horace Andy, Mungo's Hi-Fi, &Radikal Guru, plus many more. Add to that consistent play on radio play on BBC Radio One + 1Xtra, Rinse FM & Worldwide FM from the likes of Don Letts, Mala & J:Kenzo.
Additionally Adam has gained huge support from Sir David Rodigan, featuring Adam on his'Best Of British' show & was also interviewed Adam live on his BBC 1Xtra Show and as of now Adam is truly one of the hottest prospects in the revival of soundsystem music. In 2019 Adam released a new album with Joe Ariwa (son of Mad Professor) on Ariwa& plus a steady stream of high quality singles, remixes and compilations. In 2020 Adam is due to release a brand new album with critically acclaimed MC, Deemas J as well as an EP with Tenor Youthman + much, much more
Follow Adam Prescott:
facebook: spotify: mixcloud: 
ANNA MYSTIC
Γεννημένη στην Αθήνα, ασχολείται με το reggaedjing περίπου 25 χρόνια. Τα τελευταία χρόνια μαζι με τον Blend Mishkin «τρέχουν» το project MAMMY HOT DADDY COOL. Κυκλοφορούν 2 κομμάτια, το Livin Trouble στην Αμερικήσε vinyl single 7'' και το Call mi a yardie (Eye of the tiger) Mammy Hot Daddy Cool Remix.
Έχει παίξει σε αναρίθμητα bars και clubs στην Αθήνα και σε όλη την Ελλάδα καθώς και ως warm-updjset σε διάφορες συναυλίες.
Στην Αγγλία έχει εμφανιστεί στο Brixton (Telegraph, Dogsrar, Troy, NewOrleans) καθως και στο Brighton (Bassment,Volt). Έχει συμμετάσχει στο σημαντικό για τα reggaeroots διεθνή δρώμενα UNOD 2014 και UNOD 2015 (UnitedNationsOfDub) στην Ουαλία.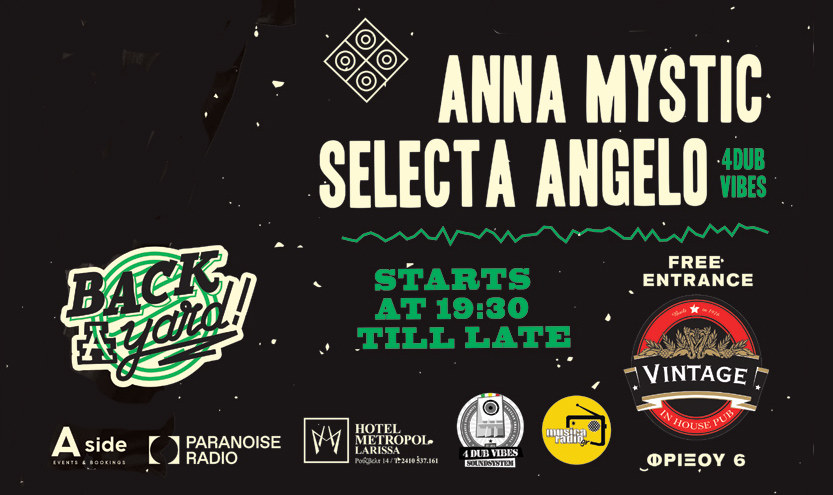 Έχει συνεργαστεί κι έχει παίξει με αναρίθμητους παραγωγούς και djs από Ελλάδα και εξωτερικό όπως Blend aka Mishkin, Fleck, Blue Hill, dj Booker, dj Soundproof, dj Harris, A.M.P.Outernational, Dubwise Hi-Fi, Keith Lawrence, Nick Manasseh, AfrikanSimbaZion Train, Mad Professor, Dub Providers, mc Trooper, RasStyler, mc Champian, Seanie T., Spikey T., Brother Culture, Soom T., Echo Ranks, Kenny Knots κ.α.
Αποτελεί μέλος του Dubwise Hi Fi τα τελευταία 7 χρόνια, με συμμετοχές σε φεστιβάλ και βραδιές και συμμετέχει στο project Reggaewise. Ασχολείται με όλα τα είδη Τζαμαϊκανής και εν γένει reggae μουσικής.
Είσοδος ελεύθερη
Supported by MUSICA RADIO | Paranoise Radio| 4DUB Vibes Soundsystem | A-side